Two days, twelve speakers, fifteen sponsors and many attendees later, it's safe to say that the Vet Success 2022 conference, which took place at the Irish National Stud and Curragh Racecourse from the 26th – 27th of August, was an event not to forget for all the right reasons. This event, hosted by Vet Space Ireland, was aimed to be Ireland's first and only non-clinical veterinary conference and trade exhibition. After many tiring months of planning, organisers Michelle Maguire and Hazell Mullins' goal was to provide CPD for veterinarians and industry partners in areas such as personal, team and vet practice development while also covering important topics around mental health, building self-confidence, and creating a positive workplace culture.
There are, unfortunately, many issues being faced by veterinary professionals at the moment, with many sadly leaving the profession due to strenuous working hours, problematic work-life balance and severe mental and physical toll it takes on one individual. Currently, the Irish market for veterinary services is getting bigger, and with this growing market comes a strain on areas where practices may be under-resourced to deal with the demand. Most practices nowadays are looking towards technological solutions to help deal with this strain to ultimately make their practice life easier and more profitable to run as a business.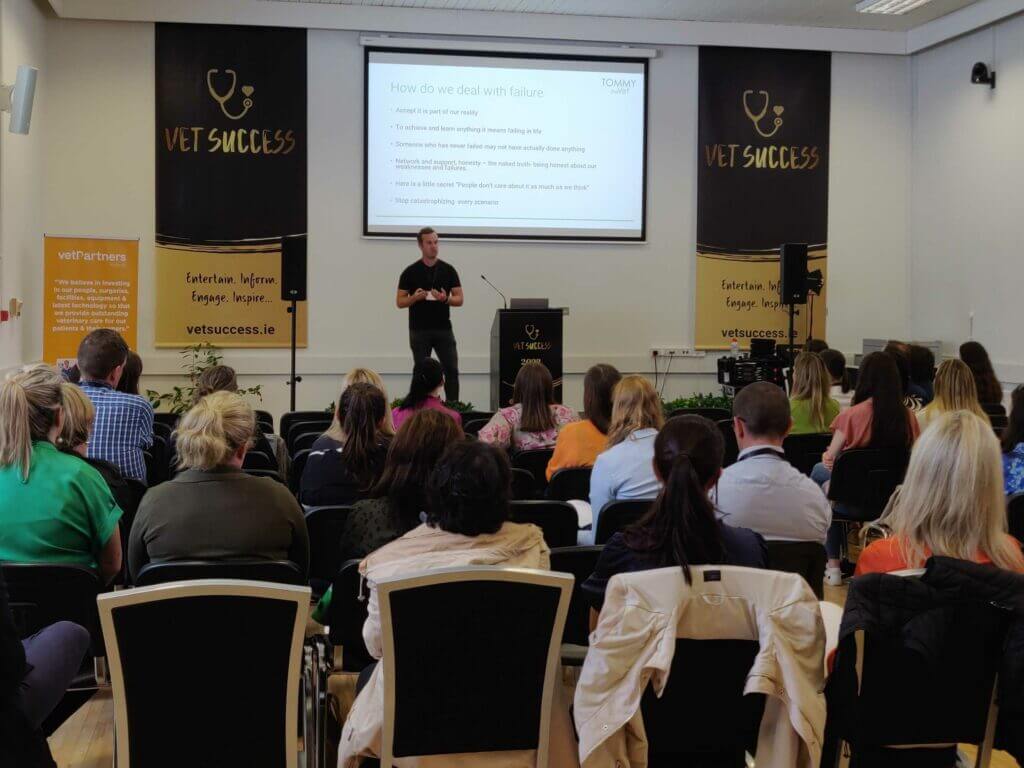 As part of Vet Success 2022, there were many wonderful speakers throughout, such as Dr Brain Faulkner, who explained the effects of self-doubt and how to build confidence within yourself. There was Jack Peploe who went into detail on how practices should focus more on improving their client's experience and practice culture. Dr Tommy Heffernan then focussed on self-reflection and building good habits to achieve positive results and a better work-life balance. The founder of Onswitch, Dr. Alison Lambert, gave some fascinating insights into team engagement and the various factors which help veterinarians run a successful business. And Dr Avril McGinn, who highlighted the challenges faced by new graduates and how they need to be closely mentored and supported during their first year of practice.
However, the highlight of the conference came from the discussion panel made up of four very influential veterinarians, including Charles Cosgrave, Eamon O'Connell, Danielle Cusack, and Kieran O'Mahony. Emceed by Dr Tommy Heffernan, the topic of reimagining veterinary brought about some interesting talking points, to say the least. From taking risks within the profession to nurturing newly graduates into practice to making the workplace environment more stress-free for staff, to even promoting the lifestyle of a vet in a new light, the list goes on.
Golden exhibitors Micron Agritech were represented by Stephen and Sean at the conference. Here, they promoted the many benefits of rapid worm testing and why bringing rapid diagnostics in-house is now an essential service to which veterinary practices can offer their clients. This message was mirrored through the appropriate theme of the event, which was 'making the business of veterinary better'. And while all attendees were blessed by the fine weather, it was refreshing to network with other industry professionals and take away the perfect mix of business and wellness from Vet Success.