Founded originally by Luke Dodd in the 1950s, Moy Veterinary Clinic based in the heart of Ballina in Co Mayo is a practice known for their passion and high standards of animal healthcare. The practice is continuously striving to uphold a professional and reliable service throughout both their small and large animal sides of the business and has evolved a lot over the years. Vet Rachel Brown joined the long-established clinic in 2003 which had just been acquired by her current business partner, Monica Higgins. And since then, Rachel has taken the role in her stride with everyday bringing its own joys and challenges.
Rachel and the entire team at Moy Vets can't stress enough why they focus so heavily on preventative medicine as the basis for their leading veterinary care. As an innovative practice, they've embraced many new technologies and ways of working. This has not only been to make their everyday lives easier, but to help improve their own quality of work and make life better for the animals and clients they deal with. Earlier this year, Moy Veterinary introduced the Micron parasite testing kit into the veterinary practice, initially to bring faecal egg count (FEC) testing in-house. Once the practice got familiar with how the technology worked and were fully trained up by the team at Micron Agritech, the benefits of rapid worm testing became apparent almost instantly.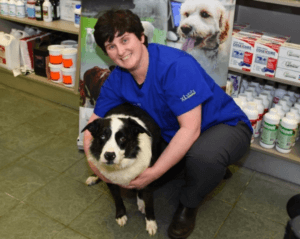 "It's not so much about writing the prescriptions, but about ensuring optimal farm health and parasite control."
We spoke to Rachel about the new rules for antiparasitics planned to be introduced in December 2022 and her thoughts on why vets, and indeed farmers, need to adopt new technologies to aid them in making faster, more informed and more accurate decisions. "Where farmers are not testing for worms, I want to get them away from dosing every 4-5 weeks without knowing what worms are or are not even present on their farm. There's a change in mindset needed, it's not so much about writing the prescriptions, but about ensuring optimal farm health and parasite control." Rachel has noticed that both coccidiosis and cryptosporidium have been the two parasite diseases she is facing every year on farms. "Our cattle are getting much heavier, much younger and underdosing is going on due to farmers simply not knowing the weights of animals. If the correct application amount of product isn't being given we are increasing the speed of resistance developing to that product on that farm and the farmer then dosing more frequently because of increased ineffectiveness. Even something like if the farmer's dosing gun isn't calibrated correctly this can lead to under dosing, the consistency just won't be there, and the treatment will simply become ineffective." With the new legislation expected to come into effect later this year, Rachel believes there's going to be a shock to the system as practices and labs will simply just not be able to cope with the level of extra work they may be faced with. "I agree that a change needs to come to reduce our antibiotic and antiparasitic usage, resistance is a growing issue we are seeing every year amongst our clients, and it is a major concern."
"Micron Kit's turnaround time on FEC results is the game changer needed to aid my diagnosis on the spot."
How rapid in-house diagnostics will become heavily relied upon
"Any health diagnostics technology needs to be easy to use and provide results which vets find straightforward to interpret." Before using the Micron Kit for doing worm testing in both cattle and sheep, Rachel outlined how time is the most critical factor of all when it comes to her decision making. "Previous to using the Micron Kit, we just didn't have the staff time available to run in-house faecal egg counts and we typically would have been sending samples off to the lab. Between the associated costs incurred by posting off faecal samples and internal resource required to complete the admin during a busy day it's not an appealing customer experience for either the vet or farmer." However, it's the speed of the results coming back that has really been an eye opener to Rachel, "depending on the day of the week samples used to be sent off, the quickest turnaround was 24 hours for a result to come back from the labs. The Micron Kit's turnaround time on FEC results is the game changer I needed to aid my diagnosis on the spot. This spring knowing if a calf has coccidiosis within 15-30 mins was a fantastic resource allowing us to focus on our treatment and prevention advice. This avoided unnecessary use of products but also allows us to have confidence in prescribing treatment to the rest of the group of calves."

Three key pillars driving the future of animal health
"Vets need to find the balance between achieving optimal animal health on-farm while not being just expected to take on an additional workload." Rachel went on to outline how there are 3 main factors which contribute to a healthy and performing farm enterprise: "number one for me will always be animal welfare, then herd or flock disease prevention and finally, a focus on the farm's environmental impact." With each of the challenges faced by farmers surrounding climate change and reducing farm methane emissions, there is also an increasing pressure put on vets too. Earlier this year, Animal Health Ireland launched a parasite control targeted advisory service on animal health (TASAH) for the 2022 season. This ongoing scheme funds a free veterinary visit focused on parasite control planning tailored to the specific farm. It also includes two free faecal egg count tests to diagnose worm infections and measure the efficacy of any treatments given. Approved by AHI and the Department of Agriculture, the Micron Kit is deemed as a suitable means to process FEC's under the new scheme. So, it really was a no brainer for Moy Vets to adopt the new automated technology and get as many of their farmers signed up. For Rachel it comes down to awareness and making that all important informed decision. "Every farm is different, the scheme has been a great way for us, not only to encourage worm testing, but to educate our clients by demonstrating very quickly where they could be saving on dosing and reducing their on-farm resistance to medication."
"To test first and then decide, is the future of how we reduce on-farm resistance."
What do you like most about the Micron Kit?
At a stage where Micron Agritech are continuously trying to improve upon their user experience and benefits of using the rapid parasite testing kit, Rachel highlighted that not only does she love new technological innovations, but where something brings real value into the workplace it will always be welcomed. "Resistance on farm has a potential to grow quickly with farmers blanket or calendar dosing, but with the ability to test faecal samples in-house, we can advise straight away what health measures are needed or not to that farmer. To test first and then decide, is the future of how we reduce on-farm resistance and only choose to use targeted medication on those animals that need it."
"Setting up a test is easy. Sample preparation takes only a couple of minutes and once you align your phone correctly on top of the device you can run multiple tests one after another." The FEC results from the Micron Kit app can be shared via email or WhatsApp direct to clients in a PDF format with the faecal sample details and vet comments or health advice included. "The (Micron) app is great because we have a smart phone in the clinic which is used for processing our tests with the kit. Then, I'm logged in on my own iPhone and can interpret the results from there. I can also see the results of all the tests we've processed which is very useful for when I'm then talking to the farmers directly or out on farm," Rachel added.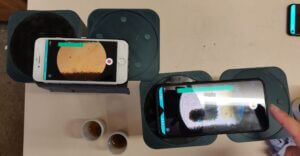 Further areas for opportunity using the Micron Kit at Moy Vets
"There is so much opportunity for what you can do in relation to rapid animal side diagnostics. Whether it be examining farm-side blood samples to quickly read an animal's live ketone, phosphorus, magnesium, and calcium levels, or detecting parasites in small animals there are so many things you could do." At the moment, the Micron Agritech team who are currently developing Micron are currently developing multiple areas to expand their app-based diagnostics platform.
"A healthy cow or ewe will pay their way. Now that there's scope for us (at Moy Veterinary Clinic) with the Micron Kit to test animals and decide on an appropriate treatment plan within minutes, it allows us to provide the most optimal animal health advice to our farmers," concluded Rachel.
If you are interested in finding out more information about the Micron Kit, click here to book your free product demo with a member of the Micron Agritech team today.